A simple way to prevent some future climate pollution is to wear the clothes you own roughly twice as many times as you might have otherwise before tossing them.
People doing so could reduce the related emissions impact of clothing by 44%, according to a 2017 report from the charity Ellen MacArthur Foundation, later echoed by the United Nations Environment Programme (UNEP).
Here's why: Wearing the stuff you already own likely means that you will buy less in the future, thus preventing the greenhouse gas emissions generated during the production of new items.
Fashion's effect on the environment
Skyrocketing clothing sales suggest many people worldwide are not only buying more than they did a couple of decades ago; they're also buying more than they can use.
"The way that the sales were growing, people were starting to own more and more clothes," said Laura Balmond, Ellen MacArthur Foundation's Fashion Initiative lead. The numbers are undeniable: "It wouldn't be physically possible to get as much wear out of your items as it previously had because people have got a lot sitting in their wardrobes."
It's no secret that the fashion industry has a pollution problem. Big fashion accounts for 2% to 8% of global carbon emissions, according to the UNEP.
The mass production of fossil-fuel-derived polyester contributes to plastic microfibers in the ocean and waste piling up in landfills. Less than 1% of clothing collected for recycling worldwide is actually turned into new items.
Efforts to reduce pollution
One idea gaining traction among apparel companies is circularity, an umbrella term referring to the reuse, resale and recycling of textiles to extend their life. New business models have cropped up or expanded in response.
Fueled by the fast-fashion craze and social media, "there's sort of this desire for newness," said Balmond. With companies increasingly announcing strategic goals and programs in the name of circularity, it can be hard for customers to distinguish what's impactful from greenwashing. But shifting customer perspectives could open the door to businesses more in line with clear circularity targets. The challenge is, she said, "if we can shift the mindset from it being a brand-new product to being new to you."
The rise of pre-worn and rented clothing
The shift is already underway. After hosting "Worn Wear" events for customers to bring their old clothing for repair or exchange, Patagonia launched an online marketplace in 2017 to expand the program. The North Face also piloted a similar program called Renewed for reselling its used items. There are also third-party virtual marketplaces for selling secondhand clothing, such as Sellpy, Depop, The RealReal and ThredUp.
The secondhand market grew from about $11 billion in 2012 to $35 billion in 2021, according to ThredUp's 2022 resale report, and it's projected to dramatically jump to $82 billion by 2026.
Then there are clothing rentals. Take Rent the Runway, an online site for people to rent clothing that launched in 2009. The business has expanded again and again in the years since, adding accessories and plus-size items to the rentals, followed by brick-and-mortar stores and monthly subscriptions.
Washing and rewearing
Circularity will only get us so far in reining in greenhouse gas emissions.
"We have endless talk about circularity," said Veronica Bates Kassatly, an independent fashion analyst. The focus instead should be on the sheer volume of items being produced.
"We have far too much, and we wear it far too few times," she said.
Some research has indicated people toss items of clothing after wearing them only seven to 10 times. But what would be a reasonable number of times to wear a garment: 60, 100, 200? Should there even be a target?
"It's hard to give a number," said Jin Su, an associate professor in the Department of Consumer, Apparel, and Retail Studies at the University of North Carolina Greensboro. Su added that such a goal would have to vary by clothing type and fabric.
Perhaps the closest thing to this number is a new durability metric for jeans. Led by the Ellen MacArthur Foundation, a coalition of academic experts, brands, retailers, manufacturers and others developed jeans guidelines, deciding that jeans should be able to withstand a minimum of 30 washes at home while still retaining their high quality. That means someone would have to wear them more than 30 times to get the most out of them.
The way you wash your clothes also matters from a climate perspective. While the biggest share of the emissions tied to apparel comes from textile production — 41% — the second-largest source is from consumption, which largely comes down to the energy associated with washing and drying. To minimize this footprint, wash using cooler water and line-dry your items, experts recommend.
Not needing to wash your clothes as much helps, too. Wool is generally more expensive than plastic-based clothing, but it's good at wicking away moisture and highly durable, according to the Ellen MacArthur Foundation. To showcase the powers of wool, Wool&Prince founder Mac Bishop wore a wool shirt for 100 days without washing it. That challenge went viral and helped launch Bishop's clothing lines.
Now Bishop's companies reward customers who wear an item of their clothing for 100 days straight (washing is highly encouraged) with a discount off their next purchase. Many customers who perhaps started the challenge to get the discount ended up changing their habits in the process.
How to shop for more sustainable children's clothes
Bursting at the seams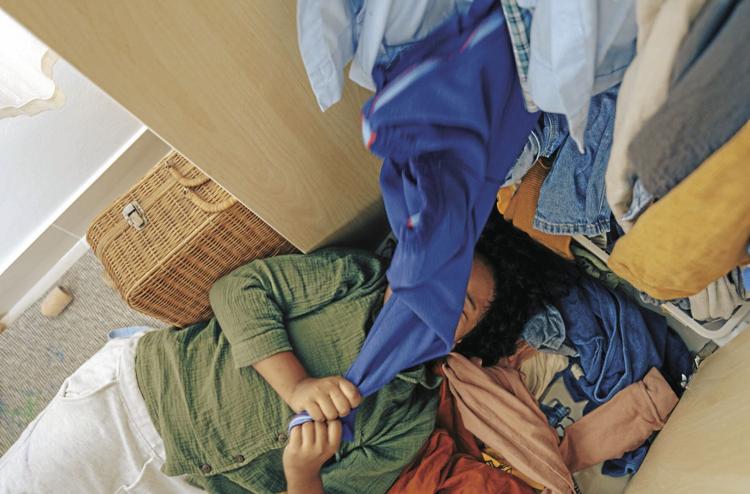 Children grow quickly and are often rough on their clothes. This means parents find themselves shopping for children's clothing often. Though buying the least expensive clothing possible might seem practical, the environmental impact of mass-produced children's clothing, like with modern fashion in general, is significant.
"I'm on the frontlines of textile recycling and waste," said Andrea Palise, owner of Bubbles and Bean Children's Consignment in Camden, Maine. "The things that I am seeing are shocking in the way that the producers of fast fashion have zero accountability. I find that the children's clothes (are) even made more cheaply. Three washes and they're already getting pilly and worn out."
Fortunately, there are a few simple steps you can take if you are looking to shop for children's clothing in a way that is better for the planet without breaking the bank. Here are some tips for shopping more sustainably for children's clothes, whether you're on your first kid or your fifth.
Buy better quality garments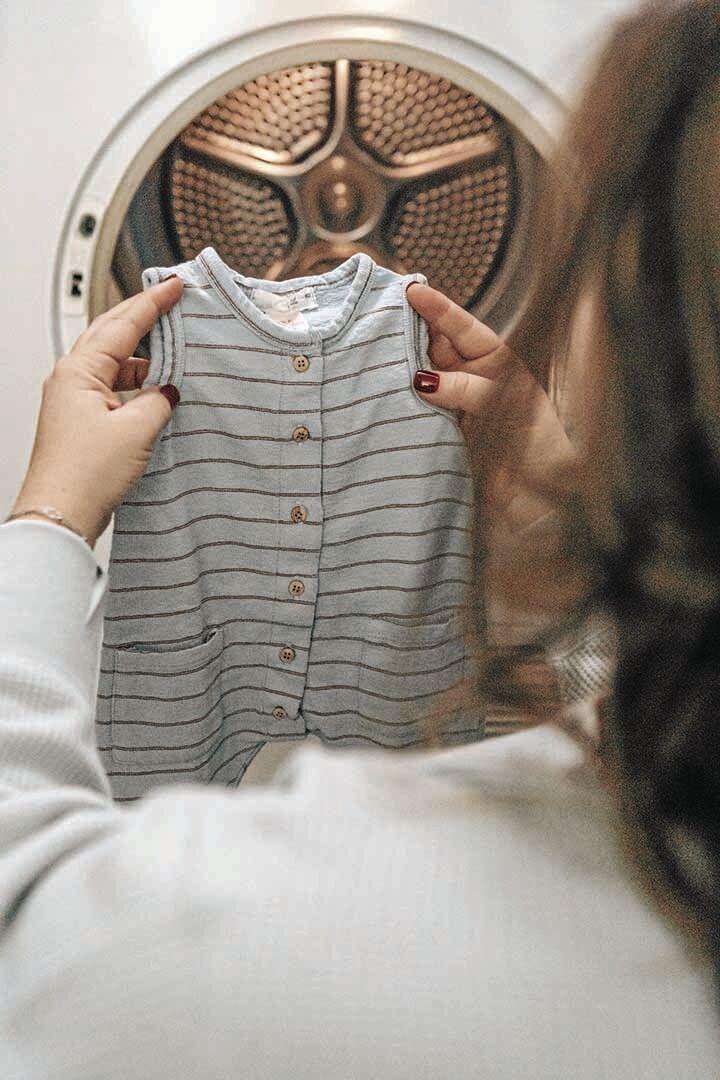 It seems counterintuitive, especially if you are on a budget, but buying better quality children's clothing will help you save money and be more sustainable in the long run.
Quality clothing will not only last longer, but it will also have a higher resale value if you want to pass on the garments to a consignment store.
Aside from shopping brands known for better quality, Palise said that you can look at the stitching of the clothing you are considering to judge whether it is quality or not.
Better quality garments will have more stitches per inch and tighter seams. If you pull the seam from the inside of the garment and it comes apart, the garment is likely lower quality. The stitches should also be neat, even and lay flat in order to avoid snagging.
"Look at the quality of the cloth (too)," Palise said. "You can easily feel the difference between a good-quality garment and a fast-fashion garment."
Quality clothes can be expensive, though. If you are on a budget, Palise said to splurge on a few key items, and then look to second-hand shops for others. Palise said that she might splurge on items like shoes and coats for children, but items like jeans she would feel confident finding a quality product at a secondhand shop.
"Jeans these days are just jeans for kids," Palise said. "The knit wear, that's when the price usually reflects the quality."
Shop consciously
As with any clothing, consciously choosing fabrics that are grown in a more sustainable way is one way to reduce the impact of your children's clothing.
"The way that the fiber is grown is a big factor," said Vero Poblete-Howell, owner of the Etsy shop BAOBAOrganics that sells organic baby clothes, toys and accessories. "I would recommend that all the people read the labels. Read the composition of the fabric. Get informed about what your kids are really wearing."
Poblete-Howell said that, for example, organic cotton will be grown in a more environmentally conscious way, without harmful pesticides and synthetic fertilizer that could harm local ecosystems.
However, she said not even all organic fabrics are created equal. For example, organic cotton that is dyed bright colors is still contributing to environmental ills through the dyeing process. Organic cotton that is grown abroad will also have a large carbon footprint associated with transporting it.
"Organic fabrics made in the U.S. are just very, very limited," Poblete-Howell said. "I do work with organic fabrics made in the U.S. and the price range goes to the sky, but I can certify that it can be done in a way that is sustainable from top to bottom."
Poblete-Howell recommended looking into other sustainable fabrics, like hemp.
"Hemp is an amazing fiber," she said. "It's way more sustainable than the cotton (and has) antifungal properties. Hemp has a touch that is not as soft as the cotton so the combination of the two of them is the best of the two worlds. I have also used recycled polyester (made from) scraps from cutting rooms that were being chopped again and made into new yarn. It was like working basically with no waste which is a huge part of being sustainable, too."
Buy or swap secondhand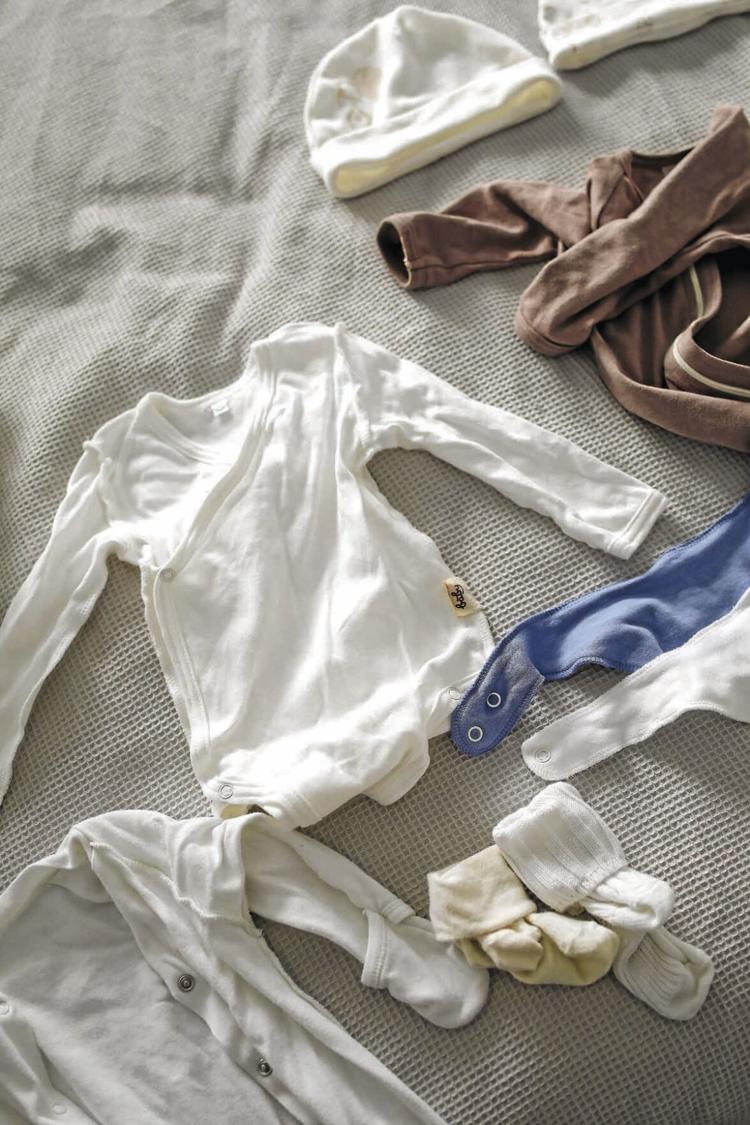 Buying secondhand children's clothes ensures that no new resources go into the production of the clothing and is one of the best ways to reduce the impact of your clothing in general.
Palise said that for most basics like T-shirts and jeans, parents should be able to find quality garments at a much lower price.
"I would definitely say consignment is the way to go for your basics," Palise said.
Even Poblete-Howell recommended that people shop secondhand.
"I think recycling clothing is today our duty," Poblete-Howell said. "Even though I have a business, if I want to give advice to someone, it's go find clothes that have been already made and recycle. I think that's more sustainable than anything else at this moment."
Setting up groups and events where you can swap children's clothing is another great way to get secondhand clothing for free, while also bonding with other parents.
"If you find a piece of garment beautiful, they can tell you something about it, (like) she wore it every day, it's so warm, this one's not itchy," Poblete-Howell said. "They've been experienced, they've been worn. I love that part. It's beyond just the way it looks."
Opt for bigger, adjustable clothing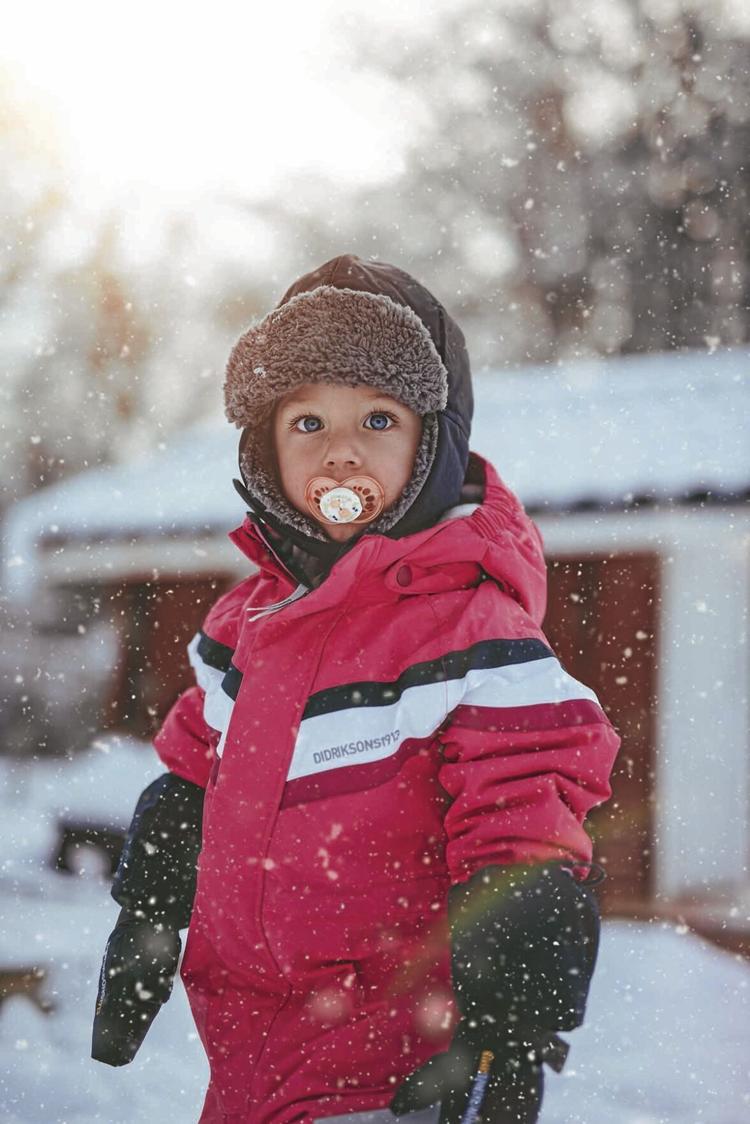 If you buy larger clothing for your children, you can make simple adjustments to make it work for them until they grow into it, which extends the usable life of the garment. Adjustments range from the very basic, no-sew fixes, like cuffing a pair of pants, to ones that will require some sewing skills, like adding an extra button to adjust the waistline on a pair of pants.
Some children's clothing will even have adjustability built in.
"I usually recommend that my friends don't buy anything (sized) for 0 to 3 months,"
Poblete-Howell said. "Just buy bigger so they can wear it during that time and wear it later, too."
Cycle through clothes more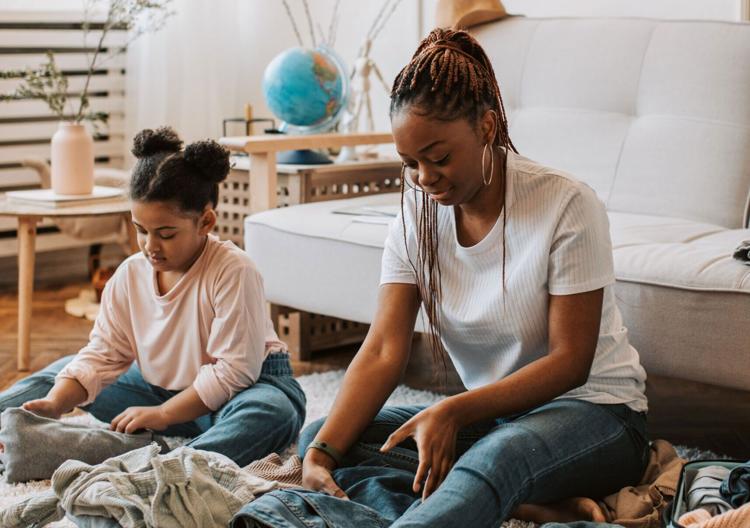 Again, it might seem counterintuitive, but Palise said that donating clothing more frequently and purchasing secondhand clothing that actually fits will make the clothes last longer. This is especially helpful if you are able to donate those clothes to a consignment store, where you can make some money and use it to purchase better fitting products.
"Some moms say, 'I want to keep that pair of jeans until they absolutely don't fit in them anymore and they're destroyed,'" Palise said. "(But) you can make money off of it while it's still in good condition. If you revolve the items more frequently, it would actually save you money because you're making money before it's worn out."
Another thing to consider: children might be less inclined to wear their hand-me-downs if they are out of style. Instead, pass those clothes along to another parent, or donate them while they are still in, that way they get the maximum use instead of just sitting in your closet.
"Fashions change quickly," Palise said.
Buy less
It can be hard to curtail your shopping when you have a cute new baby, but one of the best ways to reduce your fashion footprint is just to buy fewer items for your child. This goes for clothing as well as other baby products.
"Just ask around and say do I need this," Palise said. "One of the biggest items (I receive at the consignment store) is grocery cart covers. Nobody wants them. Our consumer world will invent any product and they will tell you that you need it, and you don't."
Plus, Palise said, your children are likely only going to have a few clothes they love to death, anyway.
"Kids are notorious for picking their favorite two pairs of jeans and that's all they're going to wear," Palise said. "A lot of parents in our consumer society just buy way too much. Pare it down."
Stay connected with us on social media platform for instant update click here to join our  Twitter, & Facebook